Best Books for UP Police Exam preparation 2021
Which are the Best Books for UP Police Fireman, Jail warden, and Horse riders exam 2021. In this article, we would recommend you best study material for UP Police Fireman, Jail Warden, and constable exam 2021. Today we will talk about the UP Police book and related to the syllabus. As we know the notification of Uttar Pradesh Police Fireman Recruitment has been announced. This is the most important vacancy for the Fireman, Horse Rider. We don't talk about the details of the recruitment we talk about only a few important books for these examinations.
For cracking the exams you should read the best and important books for up police fireman books. These are the most important books for UP Police constable including the Fireman exam of 2021. So without having any suspects you must buy these books and start preparing today.
Syllabus of Firman-
The above Information is the Syllabus and how you have to prepare for the examination. For the preparation of any competitive exams, books are a very useful medium with Video. We can not say to qualify for the exam without any help from important books. Below we give some important options to select the best and latest books for the Uttar Pradesh Fireman exams.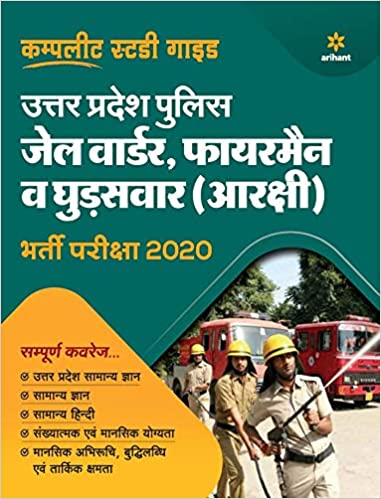 This is the latest and most prominent book combo for UP Police Fireman, Jail Warder, and Gudsawar. This book is the very latest edition of these examinations. Books cover all three exams as in Cover pages. This book gives us a complete syllabus as we have given the details in about paragraphs. This book covers all important topics like General knowledge of Uttar Pradesh, Current affairs, General Hindi, Reasoning and mathematics, and many more. This is the best book for UP fireman and police exam preparation book.
This book is in Hindi Version and publication Vidya Prakashan Mandir Pvt. Ltd (2019).

2. Important book for UP Fireman
Complete Study Package is the most valuable competitive book for up police fireman books. How you have to select the latest books related. This book provides us with the most relevant topics for these exams. Overall this book includes all important facts of the UP Police exam syllabus. More than 6600 GK questions are in this book. You can get the previous year's paper with a solution. There are many questions in this book like Hindi, Mathematics, Reasoning, and many more. You can buy this book online from the below link under the book image.
Essential book for UP Police
In terms of Book selection for the Uttar Pradesh Police exam, this is the best option to buy this book online. All subjects are included in this book and the most selling book. Therefore we suggest you buy online and this is available only online. But if you like this book online definitely buy this. Without having any doubts you can buy this book as practice sets of Uttar Pradesh Police exam 2021 books.
GK books for UP Police
Above latest version is the best and competitive book for Uttar Pradesh police fireman and horse riding jobs. Every candidate is making a plan to qualify for the exams. Therefore these types of books are the most popular in study and preparation. We suggest to all aspirants, first of all, select the book for the exam preparation according to the syllabus. In the selection of books, we should have good concentration. For qualifying the exams important books may be the best role play.
6. Best Practice Sets for UP police
To clear this competitive exam is not as easy as we think for this preparation main lead role is the best book as a weapon. So we recommend having this latest and competently fully syllabus book. Best book to study to crack up police fireman exam. It is another most important book for the UP Police exam 2021. Very useful for all exams like a fireman, Jail Warden, and horse rider.