Which is the Best Delhi Police Book in 2021
Exam time is very near so you must have the best Delhi police books to crack the exam. This job is very famous and respected in youngsters. Everyone wants to make a career in Defence especially in the Delhi police. This vacancy is very special for all candidates who have applied for this application. Before attending this exam candidate should have the best and important books for Delhi police head constable exam preparation.
Today we would give you the options to select the important books for the Delhi police exam 2021. We give you the best choice books for the preparation of the Delhi police exam 2021. As previously we gave you the best choice to select the important study materials.
The Best Delhi Police Books
Books are the main weapon to crack the exam. It does not mean that without having trusted books you can crack the Delhi police exam. For the details of the Delhi police exam syllabus. Search the details of the Delhi police exam pattern and tips and tricks.
Exam Pattern
The Written Examination will be of Multiple choice questions.
Time limit will be of 1.30 hours (90 minutes)
There will be 100 questions which will be subdivided into different categories shown below
Question paper will be bilingual (Hindi & English)
| | | |
| --- | --- | --- |
| Serial Number | Subjects | Marks |
| 1 | General Knowledge/Current Affairs | 50 |
| 2 | Reasoning | 25 |
| 3 | Numerical Ability | 15 |
| 4. | Computer GK | 10 |
Delhi Police Recruitment Syllabus for Reasoning
Observation
Visual Memory
Arithmetic Reasoning
Problem Solving
Decision Making
Similarities & Differences
Spatial Visualization
Discrimination
Analysis
Judgment
Coding & Decoding
Verbal and Figure Classification
Relationship Concepts
Statement Conclusion
Non-verbal series
Analogies
Syllogistic reasoning etc
Delhi Police Syllabus for Numerical Ability
Trigonometry
Arithmetic
Algebra
Geometry
Menstruation
Statistical Charts
Delhi Police Syllabus for General Knowledge
Current Affairs
Indian Constitution
Polity
History
Geography
Sports
Countries & Capitals
Science & Technology
I think you have learned about the syllabus of the Delhi police exam. Now the time has come to disclose the best books list of Delhi police exam. You can use these books in State level police exams.
The Best Delhi Police Books – Top Most books for Delhi Police Head Constable Preparation
1) Delhi Police Head Constable Ministerial 2021
This book covers all important topics related to the Delhi police. This book is divided into 6 major sections: current Affairs, General Awareness, Quantitative Aptitude, General Intelligence, and English Language and every section are further divided into chapters. Each Chapter is well explained in the book in a lucid manner that helps the candidate to understand the concept easily. It provides more than 3000 MCQs for thorough practice and 2 Practice papers at the end of the book for the complete preparation of the books. All these features will make it a ladder of success in the preparation of this examination.
2. Delhi Police Head Constable
This comprehensive book is specially developed for the candidates of Delhi police—head Constable (ministerial) exam. This book included Study Material & Previous Years Paper (Solved) for the purpose of practice of questions based on the latest pattern of the examination. Detailed Explanatory Answers have also been provided for the selected questions for Better Understanding of the Candidates.
3. Kiran Delhi Police Head Constable Ministerial Exam Practice Work Book Hindi (2755)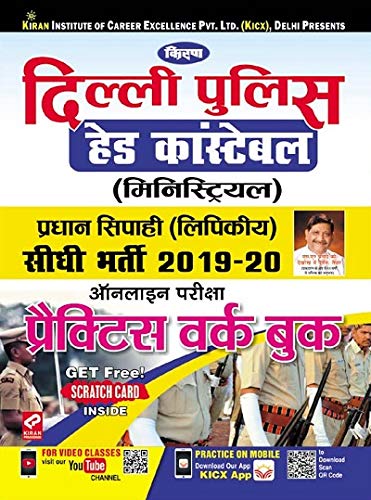 Kiran Delhi Police Head Constable Ministerial Exam Practice Work Book Hindi (2755) Contents Delhi Police Me Pradhan Sipahi (likely) Pad Ke Liya Shidhi Bharti Exam, 2021 Current Affairs Total 20 Model Practice Set General Awareness Quantitative Aptitude General Intelligence English Language Computer.
4. Delhi Police Head Constable (Ministerial) Recruitment Exam Guide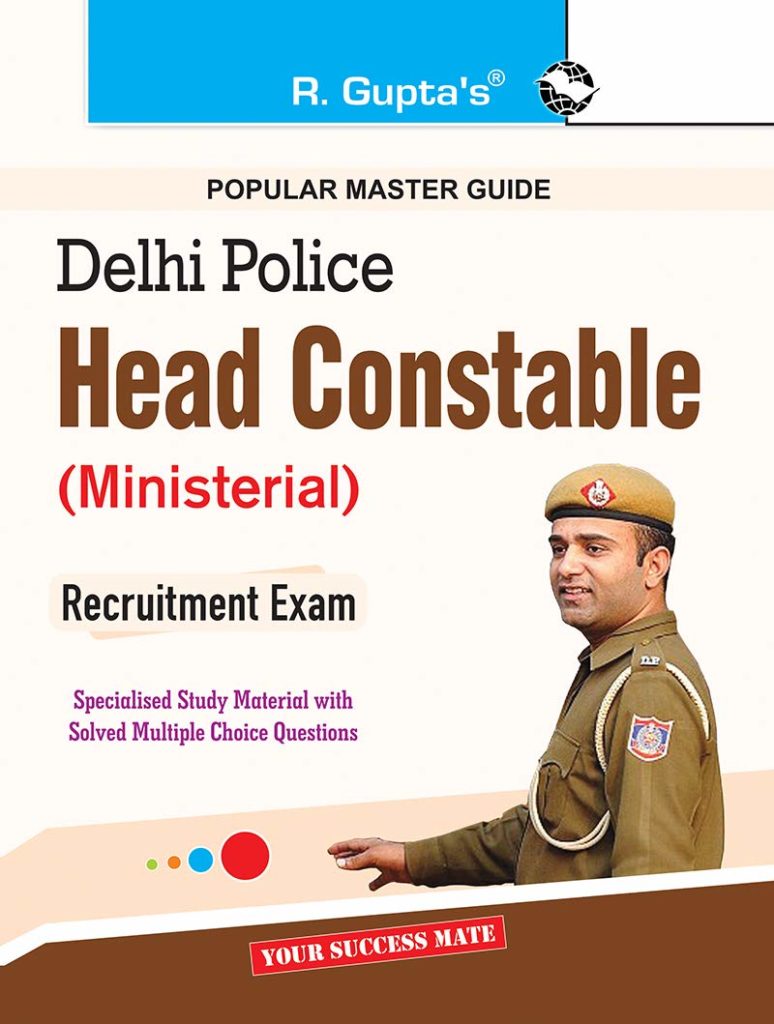 The present book has been extraordinarily distributed for the hopefuls of the Delhi Police – head Constable (pastoral) enrollment Exam. The book includes, alongside the specific examination and practice material, a Solved inquiry paper to make you acquainted with the test design, The kind of inquiries posed and their answers. The book contains specific investigation and practice material with various Multiple Choice Question-Answers on all the significant subjects important to the test.
Every one of the inquiries has been comprehended by separate subject-specialists with due tirelessness. Point by point Explanatory Answers has likewise been accommodated the chosen inquiries for Better understanding. It is accepted, the book will demonstrate helpful for study, practice and valuable minutes before the test for reference and correction. The book is exceptionally prescribed to Sharpen your Problem-Solving aptitudes with exhaustive act of various inquiries gave and set yourself up to face the test with Confidence, Successfully.
While the particular examination and practice material of this book is meant to set you up without a doubt for achievement, your own savvy study and practice joined with this will guarantee you a splendid Career with Delhi Police.
5. Delhi Police Constable Exam Goalpost Solved Papers and Practice Tests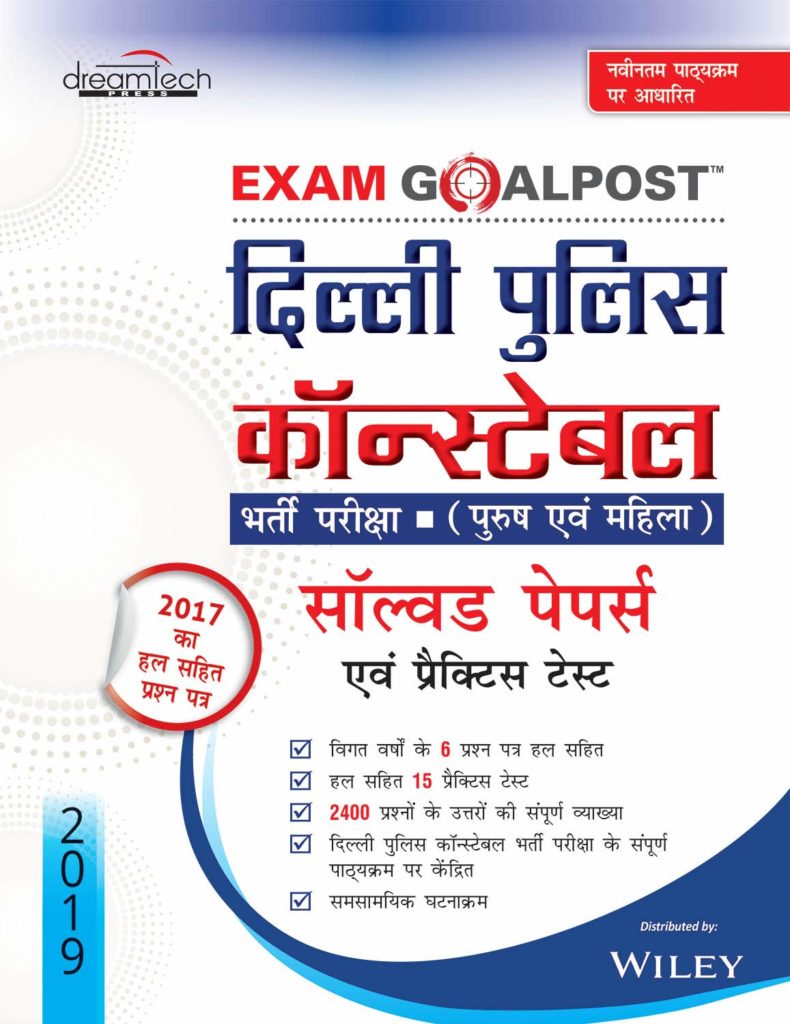 Good news for all candidates because this book will give you the previous year solved paper. By that, you can check the previous year's paper and check the syllabus along with the pattern. And you will find out 2400 questions in this test book. At last, we would say that this is full of 15 practice sets for your exam. So don't wait and buy this book.